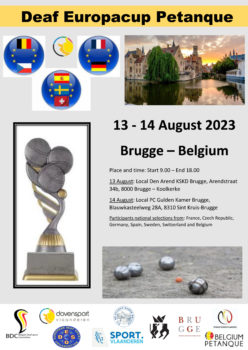 29 August 2023:  Updated Final results of European Cup Petanque 2023
23 August 2023: Final report from First European Cup Petanque in Belgium with results is available.
Place: Brugge – Belgium                        
Date: August 13-14 / 08 / 2023
Please draw your attention to the invitation in this letter to start a sport (PETANQUE) with the intention of organising a European Championship after the cancellation in 2020 and 2021 due to Corona.
This sport is already practised (after research) by deaf people in at least 10 European countries (FRA, ITA, ESP, CH, CZE, GER, CRO, SWE, DEN and BEL).
Our federation hopes to welcome you all to the First European Cup Petanque from 12 to 15 August 2023 in Bruges (Belgium)!
This is only for teams from each NDSF (national selection).