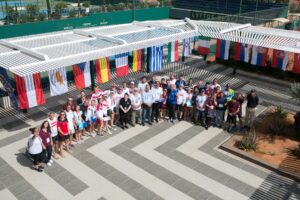 29 June 2021: The 14th European Deaf Tennis Championships, that took place at Lyttos Beach Tennis Academy at Chersonissos, Crete, is ended.
At the mixed doubles Germany took the 1st place with URS BREITENBERGER / HEIKE ALBRECHT (GER), Russia took the 2nd place with athletes DMITRY DOLZHENKOV / TATIANA KOSHCEEVA (RUS) and Czech Republic took the 3rd place JAROSLAV SMEDEK/KATERINA BLASICOVA (CZE).
At the women singles the Russian ANASTASIA LASITSA (RUS) took the 1st place, the Serbian STASA SRBULOVIC (SRB) took the 2nd place, and the Greek athlete VASILIKI KALOGEROULOU (GRE) took the 3rd place.
At the men singles the Czech JAROSLAV SMEDEK (CZE) took the 1st place, the Hungarian athlete GABOR MATHE (HUN) took the 2nd place, the Slovenian MARINO KEGL (SLO) took the 3rd place and the German URS BREITENBERGER (GER) took the 4th place .
Afterwards, the awarding of medals had been followed by the Representative of the European Deaf Sports Organization Ota Pansky and also President of Hellenic Sports Federation of the Deaf & President of EDSO Iosif Stavrakakis.
The award ceremony ended with the submission of the EDSO flag and its delivery to the next host country of the European Deaf Men & Women Tennis Championship that will be held at Austria in 2024.
Results: