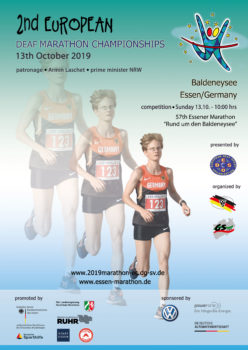 1 Mar 2020: Added the results. 2nd European Deaf Marathon Championships Results Essen GER
19 Feb 2019: Added the final entry form.
DGS athletics section also organises an open deaf marathon competition: Announcement: International Open Deaf Marathon. 
Information can also be found on the official event website: http://www.edsoathletics2019.de/
15 Nov 2018: Added the preliminary discipline, the poster and the 1st bulletin.