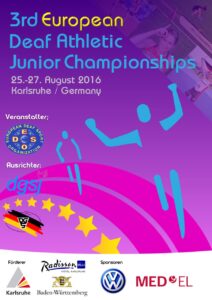 Representative: Ota Pansky
TD: Dietmar Marschner
Updated 10th Feb 2017: Updated results, as Elena Bodakina disqualified because of doping rules violation.
Updated 13th Sep 2016: Added all results in one PDF file. See it in attachments section.
Updated 29th Aug 2016: Added all results.
Updated 26th Aug 2016: Added the list of participants, start list, new technical regulations, program, start time and athletes, medal ceremony times. Also the results from 1st day.
Updated 4th Aug 2016: Added the list of participants and Final Program Schedule.
Updated 31st Oct 2015: Dear Sportsfriends,
the official homepage of the 3rd Junior Athletics European Championships is now online. By clicking on the link below, you can get a first impression of what you can expect from the event.
You can get an introduction to the city of Karlsruhe, information on the accommodation, the sports facilities and more stuff to discover.
We would be pleased if you visit the website: www.euro-la2016.de
For further information or questions concerning the event do not hesitate to contact us under: info@dg-sportjugend.de
We would be happy about additional applications.
See you all in Germany in 2016! Karlsruhe is waiting for you!
Updated 5th Sep 2015: Added Discipline Preliminary Entries U18, U20 and U23.
9th Jun 2015: Added following forms to the attachments section:
Preliminary Entry Form
Discipline Form U23
Preliminary Program Schedule
Preliminary Programme
Technical Regulation U23 in Karlsruhe GER