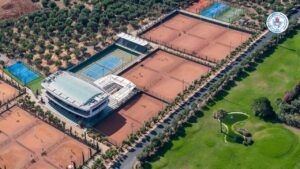 04 March 2021: Hellenic Sports Federation of the Deaf as organizer of the 14th European Deaf Tennis Championships was was prepared  the Bulletin no. 1, which provides basic information about the place, hotel, transport and prices.
The organizer originally dedicated a location on the island of Rhodes to this Championship. But due to the situation around Covid-19, the organizer chose another location for a better organization of this Championship, namely on the Greek island of Crete. Crete with Heraklion Airport has better flight connections, arranged transport from the airport to the venue and accessibility of tennis courts from the hotel. The organizer will implement preventive measures to prevent the spread of COVID-19.
The Championship will take place in the Tennis complex of the Lyttos Beach Hotel in Hersonissos, 20 km from the Heraklion Airport, on 19 – 26 June 2021.
Further details (forms to be completed) will be available in next issues of the Bulletin in the near future.