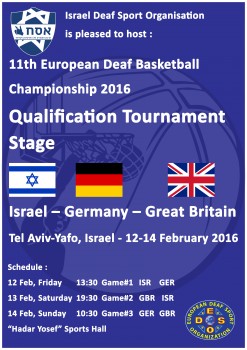 Updated 29th Feb 2016: Results and photos.
ISR-GER 70:62
GBR-ISR 30:113
GER-GBR 111:33
1. Israel 4 Pts
2. Germany 3 Pts
3. Great Britain 2 Pts
Israel and Germany are qualified to 2016 EDBC in Thessaloniki/GRE. Congratulations!
Updated 10th February 2016: Please see below the link for live streaming with the match ISR vs GER on Friday.
Unfortunately for second and third matches there will be no live streaming because of lack of financial situation.
Updated 25th January 2016: Replaced Technical Regulations to the new version (added FIBA Representative Mr. Menashe Herman).
EC Basketball 2016 qualification tournament in group B will be held in Tel Aviv-Yafo, Israel 12 – 14 February 2016.
Please see all documents in the attachment, and the deadline for final entry form is 12 January 2016.
Jürgen Endress is responsible for this tournament and he will be there, please contact he (basketballass@edso.eu) if you have any questions. Jürgen wish you good flight to Tel Aviv-Yafo/ISR and all best of luck for qualification matches.