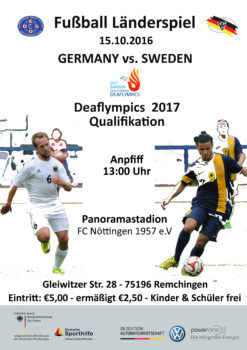 Updated 25th Nov 2016: Updated Cards, Results, Standings and added Ranking. Russia, Germany, France, Ukraine and Ireland made their way to Deaflympics. Congrats to them!
Updated 13th Oct 2016: Live streaming of the match GER-SWE! It starts at 12.45 CEST (10.45 UTC). Match poster added.
Updated 13th Sep 2016: Last matches will be held in 15th October.
Updated 13th May 2016: Added/updated Yellow/Red Cards, Results and Standings. It is clear that France and Ukraine are placed for Deaflympics 2017 in Samsun Turkey. We thank the observers for being at the matches. In September and October there will be the 3rd and last round!
Updated 4th May 2016: Match FRANCE – CZECH REPUBLIC was held in Saunt-Ouen, France. Match SPAIN – RUSSIA was held in Navalcarnero, Spain.
Updated 24th April 2016: 23. DEAFLYMPICS QUALIFIER Match UKRAINE – ITALY IN FOOTBALL MEN – SAMSUN'2017 will be held in ODESSA/Ukraine, 7 May 2016 at 15:00 EEST (12:00 UTC).
Updated 18th April 2016: 23. DEAFLYMPICS QUALIFIER Match POLAND – GERMANY IN FOOTBALL MEN – SAMSUN'2017 will be held in PRUSZKOW/Poland, 23 April 2016 at 15:00 CEST (13:00 UTC). Video here: https://www.youtube.com/watch?v=ACDp5av13YQ
Group
Matches
Venue
Date
Halftime
Result
 
 
 
 
 
 
 
 
C
GRE
v
 FRA
Athens
3 October 2015
0 – 0
0 – 1

D
DEN 
v
 UKR
Hedensted
4 October 2015
0 – 1
0 – 1

A
BEL 
v
 ESP
Antwerp
10 October 2015
3 – 0
6 – 2

B
SWE 
v
 POL
Vällingby
17 October 2015
1 – 0
1 – 0

E
IRE 
v
 GBR
Dublin
24 October 2015
1 – 0
1 – 1
 
 
 
 
 
 
 
 
E
GBR 
v
 HUN
Letchworth
16 April 2016
0 – 1
2 – 1

B
POL 
v
 GER
Pruszkow
23 April 2016
0 – 3
1 – 6
A
ESP 
v
 RUS
Navalcarnero (Madrid)
30 April 2016
1 – 0
1 – 4

C
FRA 
v
 CZE
Igny
30 April 2016
1 – 0
1 – 0

D
UKR 
v
 ITA
Odessa
7 May 2016
3 – 1
3 – 1

 
 
 
 
 
 
 
 
A
RUS
v
BEL
Moscow
15 October 2016
0 – 1
2 – 1
B
GER
v
SWE
Remchingen
15 October 2016
1 – 0
3 – 1
C
CZE 
v
 GRE
Prague
15 October 2016
0 – 1
4 – 1
E
HUN 
v
 IRE
Budapest
15 October 2016
0 – 1
0 – 2
D
ITA 
v
 DEN
Florence
15 October 2016
0 – 0
1 – 0