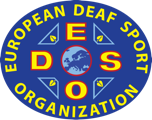 We are deeply moved by the situation in Eastern Europe, where their people are having a hard time. Some found themselves at war and others during a refugee crisis. We, as EDSO, are an apolitical organization, but we cannot turn a blind eye to these problems and be immune to this terrible situation in Eastern Europe.
Therefore, in line with the decisions of the IOC, the IPC, and several international sports federations, the EDSO Executive Committee has decided to exclude Russia and Belarus from all EDSO sports activities with immediate effect until further notice. This applies to all athletes and officials from these two countries.
EDSO expresses its support for deaf athletes and their federation in Ukraine during these difficult times and strongly hopes that this situation will end as soon as possible.