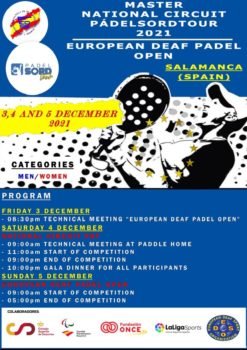 Dear National Deaf Sports Federations,
FEDS is pleased to announce the EUROPEAN DEAF PADEL OPEN that will be held on 3-5th  December in Salamanca (Spain).
The information with a brief introduction, rules, registration, information and forms for the registration of players is attached. It is european tournament to promote the sport PADEL to other countries with the aim to expand greater participation in the padel. Any questions can write to FEDS and if are technical details for the tournament you can write to padel@feds.es
You can send your players for their interest and information.