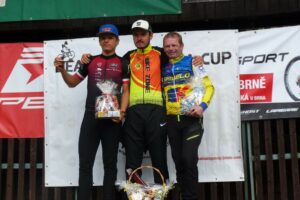 1 September 2021: XCO Cross Country – UXC Time Trial Uphill Boskovice
On the weekend of 28 – 29 August 2021, after a long covid break, the European Cup of the Deaf in Mountain Biking took place in the Czech Republic, Boskovice. This first European Cup this year was organized by the SK SKIVELO club for the deaf Olomouc on Saturday. Competitors from Belgium, Austria, Hungary, Poland, Slovakia and of course our competitors from the Czech Republic took part here.
On Saturday, the MTB XCO program in Kořenec was at the friendly cooperation of the organizers of the public hearing race MTB XC of the Drahanská vrchovina Cup. In this Deaflympic MTB discipline, a total of 5 circuits of 4.5 km were run. The weather was not very good, it started to rain right after the start and the rain only stopped when commuting to the finish line. The track was very wet and especially slippery on roots and muddy places.
 This race was won overall by the Hungarian participant Bence Foldi, followed by the Pole Pawel Arciszewski and our third Jan Čapek. In the older category, Jürgen Scheutz defended the victory, followed by Gerald Ebner.
In women, Malgorzata Krawzcyk and Patrycja Kuczynska, Poles, took first and second place. Bettina Scheutz from Austria finished third.
On Sunday, there was a time trial to the top for 5 km with a total elevation gain of 330 m. It started en masse on the track leading from the outskirts of Blansko, which led to the highest local peak Bukovec, where the race was the goal. The route of the race after the start was 0.5 km on asphalt and then continued mainly on an unpaved forest road. Overall, this time trial was won by Bence Foldi and Malgorzata Krawzcyk won in women.
This sporting event was very successful, with deaf competitors especially gaining visibility among hearing competitors, especially in Saturday's race. A big thank you to all domestic and foreign competitors, including their entourage, for their participation and a pleasant friendly atmosphere.