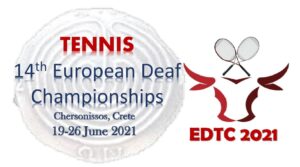 8 May 2021: The Organizing Committee of the European Deaf Tennis Championships Crete 2021 has prepared the Official Bulletin Vol.2 and the Covid-19 protocol with current instructions.
You can get information about the preliminary championships time schedule and additional information for booking hotel accommodation.
Important – Keep up to date with the Covid-19 protocol information, which is updated regularly.
For any further info and updates at Greece Statement Covid Protocol we will inform you via https://hafdeaf.gr/covid-protocols.