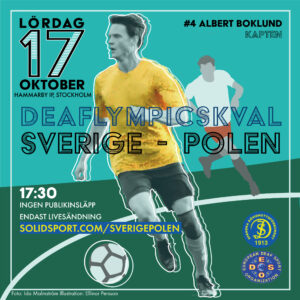 On October 17, 2020, it was held in Stockholm at the Hammarby IF stadium – qualification for the 2021 Summer Deaflympics "Caxias do Sul" in men's football, Sweden against Poland.
0:1 – 10' Bieniak Damian
0:2 – 16' Sitek Tomasz
1:2 – 29' Neverland Adam (penalty)
2:2 – 47' Neverland Adam (head)
3:2 – 72' Neverland Adam
4:2 – 74' Essa (Khoshawi) Regar
Red card: Szewczyk Pawel (two yellow 43' and 45').
Yellow cards: Adaszynski Piotr (36'), Ozog Piotr (49')
The match was without an audience present.
Sweden: Novak John – Linden Simon, Boklund Albert, Neverland Alexander, Sargisyan Goran, Kerić Kristijan, Essa (Khoshawi) Rekar (93' Andersson Patrick), Lantz Amadeus, Said Herman (96' Lemmouh Kaleab), Ramadanović Dertil (85' Skovin Aleksandar), Neverland Adam.
Officials:
Baath Conny (Head Coach), Whale Adrian (Assistant Caoch), Kavazović Mirza (Team Manager), Andersson Tomas (Physiotherapist), Rangfeldt Henrik (TD Football), Blomqvist Joakim (Interpreter) Lundberg Janna (Interpreter).
Poland: Zurek Adam – Adaszynski Piotr (88' Moroz Michal), Luczywek Krzysztof, Guz Jakub, Michalek Kamil (88' Kuc Marcin) – Bieniak Damian, Wojewoda Adam (62' Demianiuk Mateusz), Szymanski Marcin (88' Galązka Filip), Ferdynus Jakub (75' Krajewski Mateusz), Szewczyk Pawel – Sitek Tomasz.
Officials:
Ożóg Piotr (Head Coach), Garula Piotr (Coach), Kopinski Andrzej (Assistant Coach), Kątek Mateusz (Physiotherapist).
Text and photos: Polski Związek Sportu Niesłyszących