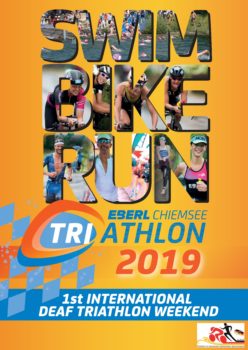 The DGS-Triathlon (German Deaf Triathlon Association) was founded in September 2014. Since then, 3 German Deaf Triathlon Championships were held. At first, first 30 deaf people participated in the event. Over the following years the number of participants has risen steadily and at the last Championships, 130 deaf triathletes competed. The number of memberships of the German Deaf Triathlon Association has been growing to over 50 and the numbers are still growing.
The 3rd Deaf Triathlon Championship in 2017 was held at Lake Chiemsee with a record attendance of 130 triathletes. The 4th championship race will be held there again in 2018.
Now we, the DGS, want to take it one step further and organize an International or European Championship in 2019 for the first time. The DGS will be supported by sports organizer and partner "Wechselszene" (www.wechselzene.de) who is a professional partner to plan and deliver an adequate championship race.
In order to find out if there's there is enough interest and support, we created a poll to send it out to all European deaf sports federations. We would be glad if you would take some time to answer our questions.
Here are some links from our last championships:
Sincerely,
Volker Marks
v.marks@dgs-triathlon.de