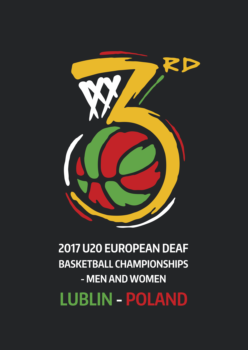 Updated 26th Sep 2017: Added the final report.
Updated 31st Aug 2017: Added results from day 4 and 5.
Updated 25th Aug 2017: Added results from day 3.
Updated 24th Aug 2017: Added results from day 1 and 2. You can also find results and pictures in Facebook: https://www.facebook.com/3-U20-European-Deaf-Basketball-Championships-1846175705626017/
Updated 17th Aug 2017: Live broadcast from 3rd U20 Basketball EC in Lublin. 30 matches total, 15 men and 15 women. https://www.youtube.com/channel/UCVJ8KYZulo5_1piqhlDCVpQ/live
Updated 16th Aug 2017: Updated games schedule. The rest day is on 23rd August, not 24th August.
Updated 14th Aug 2017: Added technical regulations and games schedule.
Updated 11th Jan 2017: Website (www.u20edbc2017.pl) for 3rd U20 Basketball in Lublin opened!
15th Dec 2016: Please find attachments below.
Preliminary entry form 3rd U20 EDBC 2017
Annex 1 – Hotel reservation form
Annex 3 – Preliminary programs