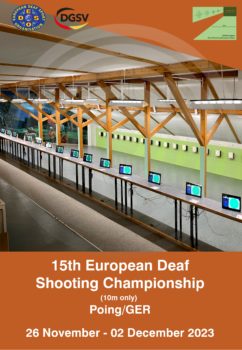 14 November 2023: Information on applications received and the schedule of the European Deaf Shooting Championship.
21 September 2023: New European Deaf Shooting Championships Schedule and For 2 – Final Entry Registration form.
14 September 2023: On behalf of the EDSO the German Deaf Sports Association invites you to participate in the 15th European Deaf Shooting Championships on 26 November to 2 December 2023 in Poing/GER. Please note that these championships have been assigned to Germany at short notice which is why it will only consist of 10m events.
The event will be organized and funded by the EDSO.
The German Deaf Sports Association does only provide the shooting range. They will not be able to organize transport nor give you hotel recommendations.